About the publication of "Hokuriku Tales (Hokuriku Monogatari)"
The start of the Hokuriku Shinkansen (bullet train) operations (Nagano 〜 Kanazawa) in 2014 presents one of the best opportunities to attract people's attention towards tourism in Hokuriku. In order to do this, it is essential that the region carries out a variety of activities as a whole and Hokuriku Economic Federation is accordingly considering ways to disseminate more information which would help increase the level of recognition of Hokuriku. 'Hokuriku Monogatari' (Hokuriku Tales) will be used to rediscover the strengths of Hokuriku tourism and will also be used as a strategic PR tool through the cooperation among the 3 prefectures (Ishikawa, Fukui and Toyama) of Hokuriku.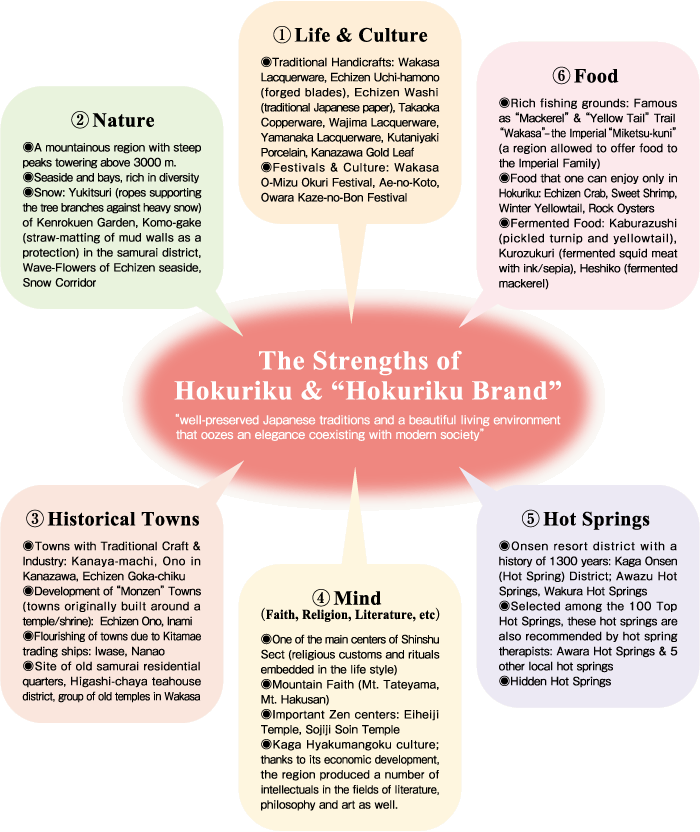 (1)The Strengths of Hokuriku & "Hokuriku Brand"
The 3 prefectures of Ishikawa, Toyama and Fukui carried out an evaluation of the various potential resources that they have in common such as nature and history or life and culture as well as food; these evaluations led to the conclusion that the main strength of Hokuriku's tourism lies in the "well-preserved Japanese traditions and a beautiful living environment that oozes an elegance without ignoring the needs of time"; these factors are rarely seen in other prefectures. All the 3 prefectures will make efforts to establish a unified image that symbolizes Hokuriku's uniqueness and would use that image for promoting the Hokuriku Brand.
(2) "Hokuriku Tales" & "Wider Regional Tourism Model Course"
"Hokuriku Tales" was published in order to introduce Hokuriku's main attractions in the form of stories or tales; it is divided into 5 sections that effectively introduce Hokuriku Tourism's main strengths related to Hokuriku's various regional resources which will help raise tourists' interest. This is the first issue of Hokuriku Tales.
Moreover, we have also prepared a detailed model course for wider regional sightseeing so that travelers will have an opportunity to experience and feel the charm of 5 Tales of Hokuriku introduced in this booklet.
We would be happy if you, as professionals of tourism, could make use of this booklet as a reference material while planning tourism products for Hokuriku. We hope that this booklet will help increase people's interest towards Hokuriku tourism and will help bring more visitors to Hokuriku.